Welcome to Update 1.17!
Timtim looked out of the tunnel entrance and into the stands as the sound of the crowd rumbled all around. He turned back to the group with a grin and sad, "This isn't like it used to be - there are a lot of people watching. "
Gix gulped. He'd managed to survive rather a lot so far, which was no small feat when keeping company with Timtim. Being trampled to death by an unruly crowd was not an option he'd previously considered as a way to die, however.
Sigrid hefted her hammer onto her shoulder. "Well, if they're here for a show then let's give 'em one."
"Tea first," a high voice said from behind her. They all turned their gaze to the tiny, elderly woman standing there leaning on her cane. "It does keep me spry, you know."
"Yes, tea would be lovely," agreed a dark skinned woman seated atop a giant lizard.
Sigrid nodded. "Then it's settled. First the tea, then the smashing of opponents."
This month's update features the new Live PVP Tournament Arena events, the next part of Chapter 4 in the campaign, and the return of the industrious gnomes in the Festival of the Hive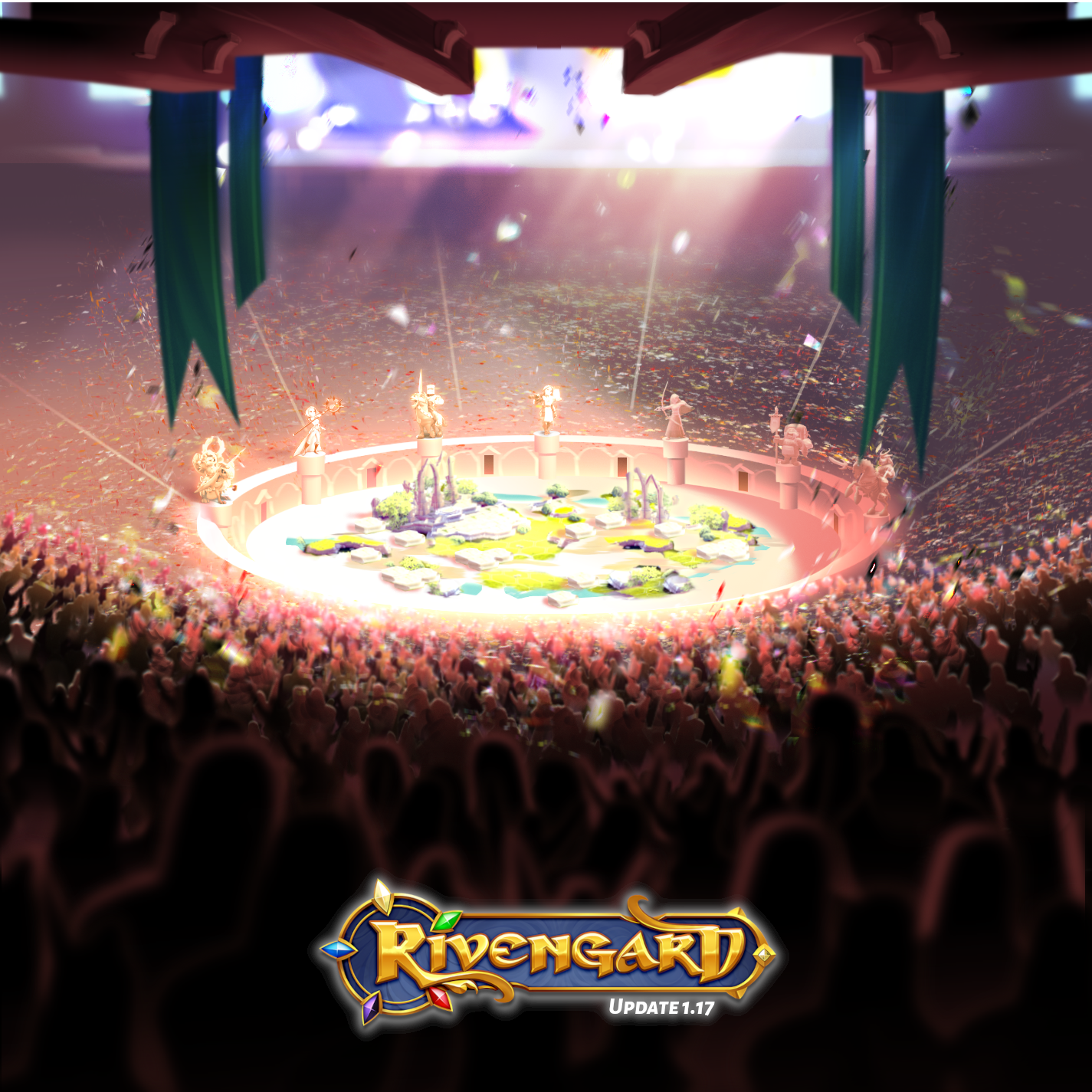 What's Included?
New!
Tournament Arena (previously Duel)
Challenge your fellow players in real-time live PVP battles on all new maps with all new rules
Currently, battles are "Friendly" - there are no rewards or leader board in place yet, but we will be introducing them later.
The first event will take place on 21 April
Learn more about the Tournament Arena here: Tournament Arena FAQ
Chapter 4 Continues
The normal campaign continues with encounters 31-45 of Chapter 4: Cursed Lands

Events
This month's Festival of the Hive features Buzzy Klnonkson - a mech pilot who operates a large, mechanical, rocket shooting construct- beginning on April 24th!
Two new Hero Adventures, including Hero of the Sacred Grove: Scruffy
Conquest Tournament Arena on 21 April
Changes and Improvements
PVP Map Rotation
The following maps were removed from the PVP rotation


Chapter 1 Battle 33 (both spawn sets)
Chapter 2 Battle 33
Chapter 2 Battle 39
Chapter 3 Battle 22

The following maps were added to the PVP rotation

Chapter 4 Battle 1
Chapter 4 Battle 8
Chapter 4 Battle 9
Chapter 4 Battle 10
Waning Moon Adventure 5

The following maps are still in rotation, but have new spawn sets

Chapter 1 Battle 20
Chapter 1 Battle 43
Chapter 1 Battle 71
Chapter 2 Battle 17
Chapter 3 Battle 17
Heroes
Staticrackle

Airship Strike


now has a fixed Range 3 (this means it can be used at max Range even when adjacent to an enemy, but is not boosted by some Hero abilities like Naevys' Hawk Eye)
Improved the description to show the damage dealt by Landmines

Supply Drop

now has a fixed Range 3 (this means it can be used at max Range even when adjacent to an enemy, but is not boosted by some Hero abilities like Naevys' Hawk Eye)
Bug Fixes
Fixed a bug that sometimes caused the Honor your Heroes screen to seem blank/scroll below Heroes