Updated 18 Nov 2021
The Tournament Arena events are coming in update 1.17!
If you're looking for more information on our recently announced Tournament Arena events then you're in the right spot!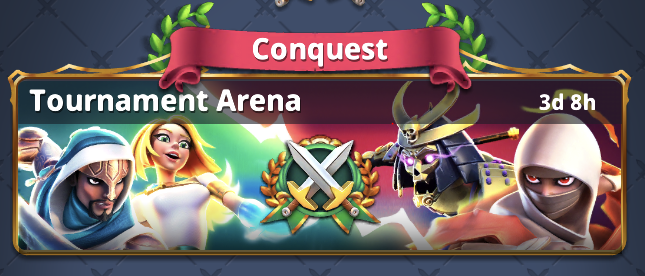 What is the Tournament Arena?
The Tournament Arena is a new limited-time event mode featuring synchronous PVP battles, also called Live PVP, where you can go head-to-head against other players in real time!
When will it be available?
The Tournament Arena will be introduced in Update 1.17, coming April 2022. The dates of the first Tournament event have not been announced yet, but should be in the week or two following the release of the update.
Is this just a live version of Arena?
No. The Tournament Arena uses its own set of maps, and there are additional victory conditions that can be used to gain a win other than simply defeating your opponent's Heroes.
Will the Arena be going away?
No. The Tournament Arena to be available as limited time events, similar to how Hero Adventures operate, while the PVP Arena is a permanent "always available" game mode.
How will matchmaking work?
Currently, it works on the super simple method of "first come, first serve" and whenever there are two people looking for a match, they will be paired together.
What happens if my opponent is significantly stronger than I am?
Not to worry! Heroes are capped at 2-Star Common Rarity, the same way they would be for Common Tier Hero Adventures, so everyone is on a level playing field. Just like in Hero Adventures, the Passive Ability for Heroes will remain unlocked even at this rarity.
What about Item levels?
Item stats are also capped at Common Rarity (Items that provide a benefit higher than Common 3 are reduced to Common 3 level of benefit.)
Can I see my opponents team before I choose my Heroes?
No. You'll both be choosing your team at the same time, and the first time you see each-other will be on the field of battle.
What are the rewards like?
We have not finalized this part of the game mode yet. The first Tournament Arena events will be considered "Friendly" and not have rewards or a leader board.
Are there seasons, like with Arena and Guild Raids?
No. Because it is run as limited time events, it does not have recurring seasons.
What happens if my opponent quits or disconnects?
The match immediately ends, with you being declared the victor.
Can we chat with our opponent?
There are some predefined emotes, like "Hello" and "Good Game" but not a full chat option.
What if my opponent tries to stall and not take his turn?
Each turn has a limited amount of time. If the timer runs out, the turn ends and passes to the other player.
What does the Conquest above the event card mean?
The Tournament Arena events will have different rules for victory in different events. Conquest is one of these rule sets.
I have a question not listed here, where can I get an answer?
Join us on Discord at https://discord.gg/YkvMeA3WSt and you can be a part of the discussion, provide feedback, and more.