Welcome to Update 1.20!
This month's update features the start of the Chapter 4 Elite Campaign, the return of Queen Aceshru in a flash-back Festival, new Upgrades and Ranks for all Heroes, additional player Power Levels, and more!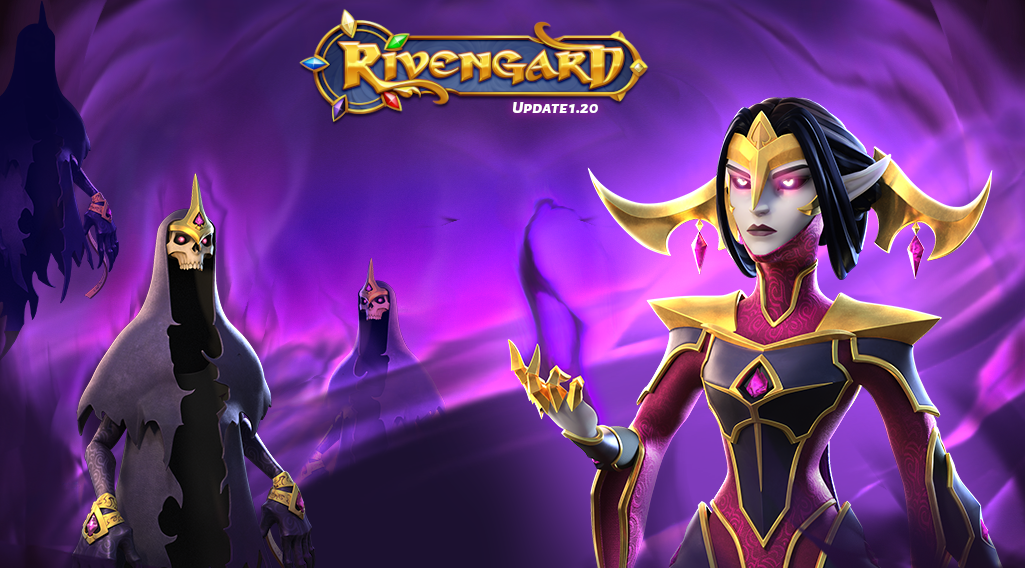 What's Included?
New!
Chapter 4 Elite Campaign
The next part of the elite campaign begins with encounters 1-8 of Chapter 4: Cursed Lands


New NPC "Elite Spirit Samurai" is stronger than his normal counterpart, and can cling to undeath a little bit longer and lash out at an adjacent enemy upon being defeated.
Diamond Ranks
11 new craftable Legendary Upgrades
All Heroes can now advanced to the rank of Diamond III
Events
This month, Queen Aceshru returns in a Festival of the Cavern Realm beginning July 17th!
Two new Hero Adventures, including Hero of the Hive: Staticrackle and the winner of the community vote, Nimrul!
More competitive Conquest Tournament Arena events also on the way, with a new ticketing system (detailed below)
Faction preview: Fiveport, the City of Coin
Portraits added for the upcoming new Light Faction
Changes and Improvements
Tournament Arena
Ticketing

Ticket max increased to 12 tickets
There will no longer be an "over ticket" mechanic that stocks up tickets beyond the max until you log into the game
When the Tournament begins, all players will be issued 6 tickets (out of a max 12) and the recharge timer will begin at that time.
Economy and Balance Changes
Power Level Increase

New max Power Level of 50


some adjustments have been made to the existing Power Level values, so players might see their Power Level jump up a bit after updating

Max stamina has been increased, now up to 135 at Power Level 50

New chests added to areas that are impacted by Power Level, such as Guild Raid and Shop Chests

Stamina Purchase

Added a new Stamina "1st purchase" option of 50 Stamina, which can be purchased either by viewing an ad or spending 25 gems.
All other stamina purchases remain unchanged
Other Changes and Fixes
Akio's stage should now have the proper reward icon
Wingtip now uses sand wormholes properly
Other small bug fixes