Welcome to Update 1.18!
This month's update features the Competitive version of the new Live PVP Tournament Arena events, the next part of Chapter 4 in the campaign, and an all new format for the Festival of the Hive!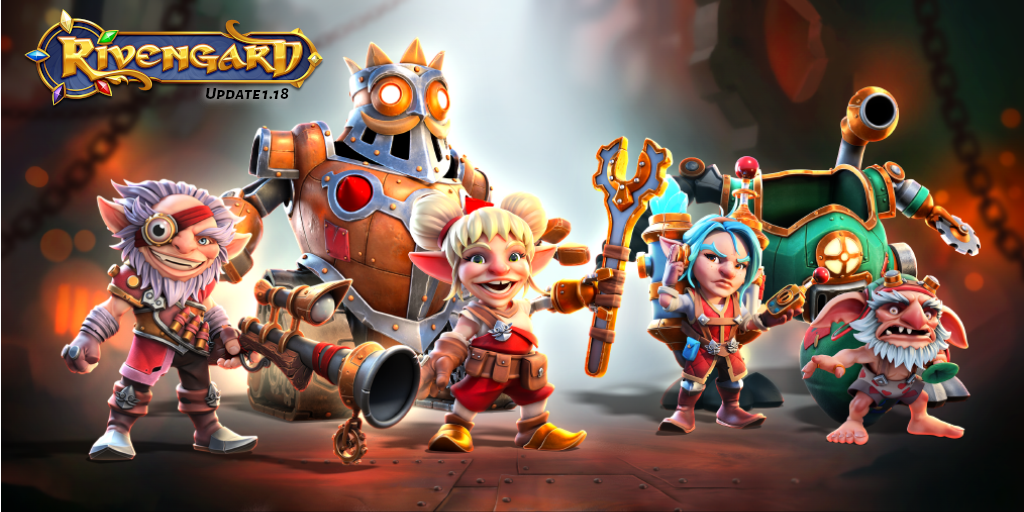 What's Included?
New!
Chapter 4 Continues
The normal campaign continues with encounters 46-60 of Chapter 4: Cursed Lands

Events
This month's Festival of the Hive features Sprocket - a tinkerer able to squeeze a little extra action out of both friendly and enemy mechanical units - beginning May 22
Two new Hero Adventures, including past Hero of the Hive: Snazzbang!
The first competitive Conquest Tournament Arena will open its doors on May 19
Changes and Improvements
Festival Structure
The Festival point calculations have been completely overhauled, and there are some new interfaces as part of the new format. First we'll hit some goals, then talk about the changes:
Goals:
Have both active play and raiding both as viable options
Have only small discrepancies in the choice between what is best for the Festival vs the usual grind
Eliminate situations that "punish" a player for being advanced in power
Increase the number of players able to achieve Legendary unlocks
Scoring Changes
Manual Campaign Battles (Normal and Elite)

base of 3 points per Stamina
+1 point per Skull (see note below on UI changes)
+1 point per skull for Lightning Victory
+ 0*7 points depending on Power of enemy lineup
-1 for Hero lost

Raiding Campaign Battles

Scores as if 0 Heroes were lost in the battle
Provides the LV points if LV previously achieved
Skulls determined by your collection Power

Hero Arena

Same as current structure, but with +0-7 points based on total enemy team Power

Guild Raids

Same as current structure, but with increasing point value based on higher rarity Bosses
UI Changes
When playing a battle manually, you can now adjust the Skulls of the battle by deploying weaker Heroes to increase the difficulty. Above the Hero selection roster you'll notice the enemy Power in red on the left and your Power in green on the right, and the Skulls in the center. As you choose which Heroes to deploy, the Skulls and and your Power will change in real time. This way, you can attempt a more challenging battle to earn more points!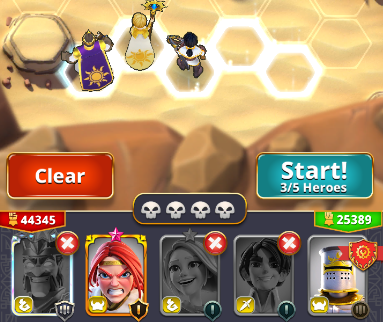 Competitive Tournament Arena Events
Play in Ranked matches to climb the leader board and battle for rewards including Ascension Materials and large sums of Gold, Experience Books and Stamina OR play in Unranked matches as to test strategies, get familiar with maps, and enjoy the event

Ranked matches use Battle Tokens (like other events and game modes)
Unranked matches do not use Battle Tokens and can be freely played as much as you like
Only Ranked matches award Victory Chest progress and Victory Points for the leader board

A Victory awards 7 points
A defeat awards between 0 and 4 points
PVP Map Rotation
The following maps were removed from the PVP rotation


Chapter 1 Battle 18 (two spawn sets)
Chapter 1 Battle 39
Chapter 2 Battle 18
Chapter 3 Battle 5

The following maps were added to the PVP rotation

Chapter 1 Battle 27
Chapter 1 Battle 28
Chapter 1 Battle 31
Chapter 2 Battle 46
Chapter 3 Battle 4

The following maps are still in rotation, but have new spawn sets

Chapter 1 Battle 56
Chapter 1 Battle 22
Chapter 1 Battle 45
Chapter 2 Battle 6
Chapter 3 Battle 30
Bug Fixes
Other smaller balancing fixes and bug fixes