Welcome to update 1.11!
Across the realm of Rivengard, in every corner where Heroes rise... and fall... there is a feeling in the air, a sense that a new challenge looms on the horizon. In Heaven's Reach, the Radiant Order train harder than ever. At the Azure Tower, the mages study and practice with renewed ambition. In the deserts and forests and everywhere between, the stories are similar: gather your strength, and prepare for what's to come.

This month's update features Oakenshrub in the Festival of the Sacred Grove, as well as new challenges with two new Hero Adventures, and many improvements to some Heroes' abilities. Additionally, balance changes and enhancements to other features await!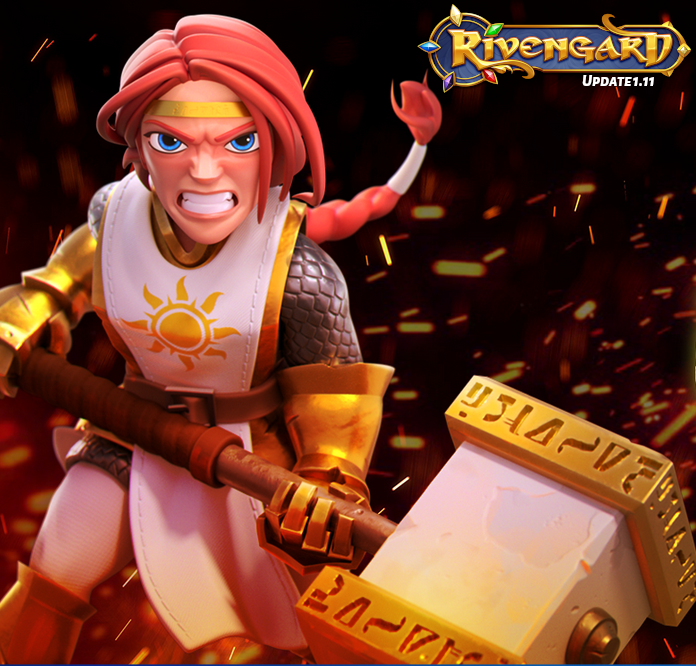 What's Included?
New!
Events
Oakenshrub, an elemental whose bark is his bite, arrives in this month's Festival of the Sacred Grove beginning November 7th and ending November 21st.
Two new Hero Adventures, including past event Hero of the Cavern Realms - Umanu
Enhanced Features
Treasure Beach


Added a new zone with new encounters
Quests

New Hero Master quests added for each Hero, beginning at Power level 15


Use the Hero's ability and deal damage with the Hero
Awards that Hero's shards and a chance for ascension materials for any Hero
Balance Changes
Hero Adventures
Item Rarity Cap added


The benefits of Items are now capped by rarity at each tier
Hero Abilities
Aradel


Whiteout

block chance doubled from 35% to 70%

Areus

Chain Lightning

Will now strike 1 additional target at level 27 and again at level 36

Cervidus

Toadstools

Renamed to "Spawn Toadstools" to help clarify between the Ability and the Object it creates

Salvo
Sigrid
Tawa Rinji

Nature's Strike

+1 Projectile, reduced the variance in the Damage per projectile

Force of Nature

Damage and Healing both increased by 20%

Ziyad

Cobra Push

Quadrupled Health of summoned Cobras

Serpent's Vengeance

Quadrupled Health of summoned Cobras
Bug Fixes & Other Improvements
The AI is now smarter when dealing with Toadstools
Increased the number of Raid Tickets dropped by chests, quests and Daily Login Bonus
Fixed a bug that prevented opponents refreshing after claiming a Victory Chest in the Arena
Fixed a bug that prevented Mivera's Fear of Death from moving her onto tiles occupied with steppables (such as tadpole eggs, etc)
Fixed the text in the description of the Vines tile effect so that it shows the % damage dealt
Other smaller balancing fixes and bug fixes