Hero Adventures are here!
It's time to answer the call and rise to the challenge in our first Hero Adventure, featuring the return of King Caradan of Dawnrose.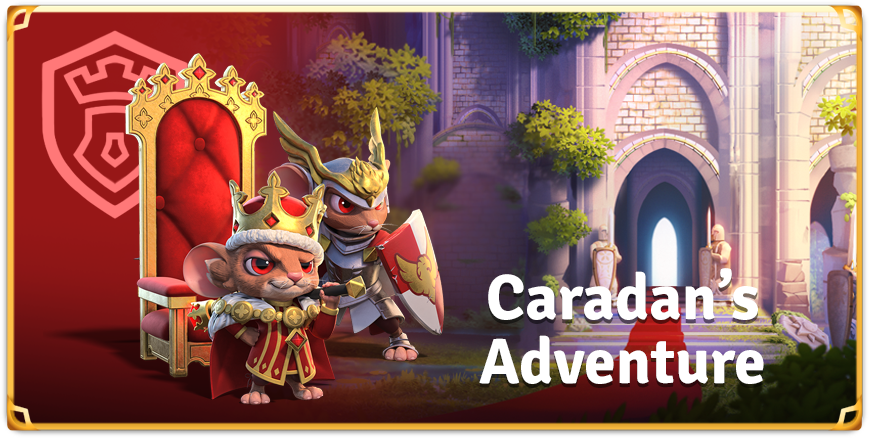 First things first!
And that's knowing when and where to find the fun!
Hero Adventures will appear in the Battle Menu along with other events and game modes. The first Adventure begins Thursday April 29th and concludes just 48 hours later on May 1st. The Adventures will then occur every two weeks on Thursdays. We'll also remind you 24 hours in advance with an in-game notice, so you don't have to worry about trying to memorize the schedule.
Now that you know how to get there, let's explore the ins and outs of this new feature.
A Common Beginning to a Legendary Adventure
Each Hero Adventure consists of a series of 15 battles with boards and enemies from the featured Hero's opposing faction. The challenges of these battles are organized by rarity tiers from Common to Legendary and must be played in order, beginning with Common. Only by successfully completing a battle will you be able to progress to the next one. If a battle is unsuccessful don't worry - you can spend a Battle Token to try again!
Battle Tokens?
Starting a battle in Hero Adventures does not use stamina! Instead, it uses Battle Tokens. You start with 6 Battle Tokens and generate 1 every two hours if you have fewer than 6 (the max.). We know that sometimes real life gives us adventures too, and it's okay if you get a bit of a late start – the first time you trigger the event, we'll top up your tokens with any that would have been generated since it started, so you don't miss out!
Building Your Team
Each Adventure requires you to use the featured Hero, but if you don't have the featured Heroes yet that's okay - we'll provide them for you to use in the Adventure! The other four members of your team are chosen the same way as any other battle in Rivengard: strategically, of course! With that in mind, there are some other things you should know as you prepare for battle.
The effective rarity of your heroes is capped by the rarity tier you are battling in! So, if you join a Common Tier battle with a Rare hero, they will have some of their stats reduced to Common rarity values. This affects:
Rarity bonus on ability stats

Star bonus on Hero stats

Ability level

Hero Maximum Rank
Passive abilities remain unlocked when heroes are brought down to Common, and stats from Items are not affected – so your Agnar with a Mace of the Maniac can still gleefully swing it even in tiers below Epic.
The exception to the above is the featured Hero, which is configured the same for all players in every battle. This means that if you already have the featured Hero you will not notice any improvements from your Items on that Hero. Oh, and if you do have the featured Hero, they will still gain experience like normal, even though they are using pre-set values for their stats.
Heroic Loot, and How to Get It
Each time you successfully complete a battle, you will earn a score based on how well you did. Your best score for each battle will be added together to form your Event Score, and your Event Score is your path to rewards – with new chests unlocked at different Event Score milestones as shown on the chest progress bar (similar to the one for wins in the Arena.) Additionally, you can earn one-time Star rewards for clearing the battle with 1, 2, or 3 stars just like campaign battles. Rewards will primarily revolve around unlocking and progressing the featured Hero, and you can replay stages in an attempt to maximize your score.
What Else?
Well, there are some strategies for maximizing your score to discover...but we'll let you do exactly that. After all, this is an Adventure!